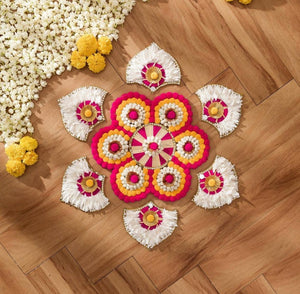 White flower rangoli
Add a hint of festive flair to your decor with this elegant Pom Pom. Crafted from a luxurious material, this eye-catching decoration crafted with intricate pom pom, embroidery, and mirrors, atop a sturdy MDF foundation make it a timelessly stylish choice for any discerning decorator.

All the rangolis are 2.5-3 feet in size. 
All parts are detachable.