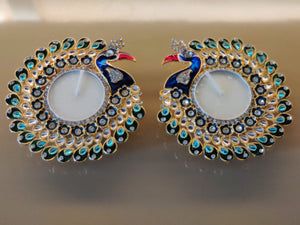 Meenakari Peacock Diya - Set of 2 | Indian Return Gift Favor
Light up your home this with this beautiful diya. This peacock shaped diya features peacock colored feathers surrounding the tealight; all made of meenakari work. Great for gifting/housewarming gifts/puja functions; Use it for yourself or return a gift/party favor to a special someone. 
Size: Approx 5.5 inches for each diya
Price listed is for a pair.Tealights not included.
Statement pieces
The peacock diya is amazing statement pieces and a great Diwali favor!!!!
Loved it soooo much.. Soo did my friends who got it