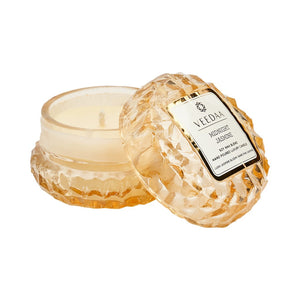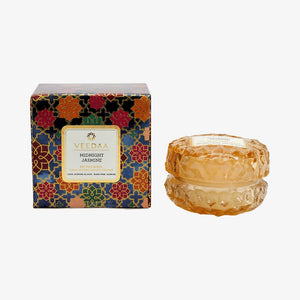 Midnight Jasmine Crystal Glass Candle
The Midnight Jasmine fragrance is created with a delicate blend of lush jasmine blooms intertwined with soft petals of rare pink jasmine. The fragrance oils are obtained from the Southern Indian region of Madurai where the flower is cultivated.  It permeates the air with notes of rich white and pink jasmine blooms.

Our clean-burning soy wax blend is poured into this delicately colored handcut glass shaped like a crystal. Rich colors adorn the ornate packaging which reflects a floral and contemporary mosaic design. You can use the jar for keeping jewelry or décor once the candle has finished burning.
Burn Time - 15 Hours
Dimensions: Diameter -3.5", Height - 2.5"
Proprietary Soy Wax blend
100% cotton wicks 
Hand Poured Luxury Candle
Superior Fragrance Integrity
Parabens, Phthalates, and Sulfate free