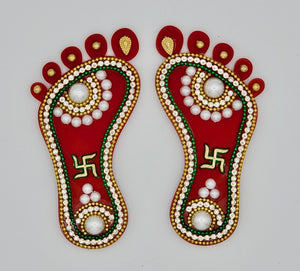 Acrylic Kundan Laxmi Pagla (Laxmi feet)
Welcome Goddess Lakshmi with this acrylic laxmi feet (paduka). Symbolically, the drawing of Shripada indicates the entry of Goddess Lakshmi in the house of her devotee. Place it at the entry door of your home or pooja room using the double sided sticker at the back. 

Measures approximately 4 inches
Laxmi pagla
Its very pretty & good quality.
I ordered many times & gifted for family + friends housewarming puja.
This time i ordered for myself :)
Love all the products & wish Lotus boutique would make more products & jewelry ✨️ 😍
Beautiful set
This is a permanent addition to my home mandir now. Its absolutely stunning and well made.