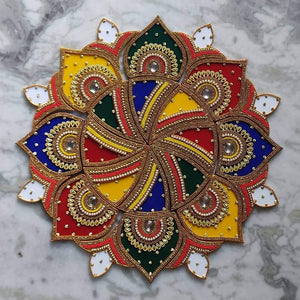 Vibrant Flower Rangoli
Add this eye catching rangoli to your festive decorations! Opaque rangoli in flower shape. Contains 8 pieces each in bright colors like red, yellow and blue and green and 8 small orange white petal like pieces. Decorated with pearl, rhinestone and stones.

Diameter measures approximately 15 inches
Care: Keep in cool and dry place (away from direct heat) . Do not place any heavy objects on the rangoli.