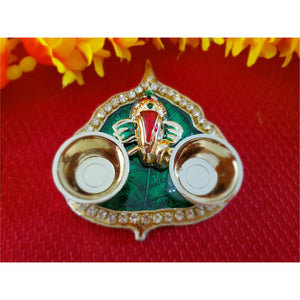 Pipal Leaf Haldi Kumkum Holder | Return Gift Favor | Indian Festive Favor
Delight your guests with this cute ganesha haldi kum kum holder. The base is designed like a pipal leaf with 2 containers separately for haldi and kum kum. This kumkum holder can be used to store kumkum, turmeric, and chandan.
This wonderful handicraft can be gifted to you near and dear ones on special occassions like diwali, navarathri, upanayanam, sathyanarayana pooja and so on!
Use it for yourself or return a gift/party favor to a special someone.
Size: 3 inches approximately
Price listed is for single piece.
Beautiful & Worth buying item
Packaging was so nice….Item was absolutely same as I saw on website..I have ordered 24 Pieces and all were in great condition with good quality when I received… must say , Perfect pooja return gift for guests.
Hi Karuna! Thank you for a lovely review - We are so thrilled that you loved the product & shopping experience! :)
Very pretty piece. Perfect item to be added to tamboolam. Reasonably priced.
Artistic product!
Combination of traditional and modern work. Ordered this for navratri return gift and was delivered on time. It came in a cute pouch. I would definitely recommend this.