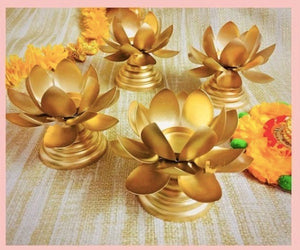 Metal Lotus T Light Stand
A tealight stand that is so cute! This tealight holder is in lotus shape and is in metal. Has a placeholder for a tea light. Use this to dazzle up festivities at home!
Approx height 5 inches.
Price listed is per t light stand.
Awesome quality
These lotus tea light holders are beautiful. I bought a pair and they are really a statement piece. The quality is awesome and will last a long time in our festive decor collection.
I also love and appreciate their 6$ shipping cost all over usa.
Thank you, Sunitha! You have made the lotus tealight holders look even more beautiful! Thank you for shopping with Lotus Lane Boutique!
Excellent decor!
Love the lotus lamps got from Lotus Lane! The quality is top notch and is a great addition to the decor for the festivities!!