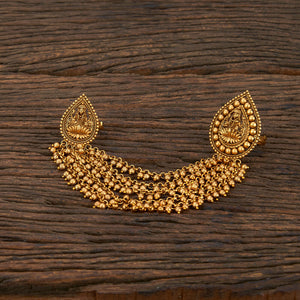 Kiran Antique Double Ring In Matte Gold Plating
If you're looking for a unique ring, look no further! This beautiful gold plated double ring features lakshmi. Has gold beads throughout, sYou can't go wrong with this unique look - from kurtis to saris, this is a standout style! 
Height = 34 mm || Width = 34 mm
Adjustable
Antique Ring
Care instructions: 
Protect your Jewelry from Sharp Blows, Scratches and Extreme Temperatures.
Avoid Contact With Perfumes, Sprays, Chemicals and Water.
Keep your Jewelry in a Clean, Dry and Airtight Box. Wipe it using a Soft Cloth Regularly.